We offer instruction for both mat and reformer Pilates workouts in Greensboro, NC.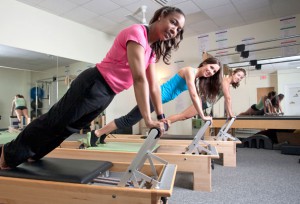 Pilates is a very popular component in fitness plans. In fact, it is so effective and popular that numerous celebrities use it to keep looking great in front of the camera. You can get and maintain that Hollywood figure, too, with the highly effective Pilates workouts offered at Fitness By Design in Greensboro, NC. We offer instruction for both mat and reformer Pilates workouts that are designed to aid you in your fitness goals. There are a number of reasons why you should consider Pilates workouts.
Anyone Can Do It! – It doesn't matter if you are recovering from an injury, have been inactive for years, or even if you are pregnant. We can tailor Pilates workouts that are gentle and safe, while still being effective. For example, reformer Pilates workouts can be adjusted in intensity to suit your abilities.
Toning – The founder of Pilates workouts, Joseph Pilates, was known to say, "In 10 sessions, you'll feel the difference. In 20, you'll see the difference. And in 30, you'll have a new body." You will be a believer once you have worked with our expert trainers guiding you through your Pilates workouts.
Weight Loss – Part of any weight loss plan is strengthening your muscles. Pilates workouts are a great way to get your muscles working for you. This safe and gentle method is especially a great way to get started if you have been inactive for a while. It is also gentle enough that you can do it every day, which gets you into the habit of working toward your goal. Each session will give you more energy, so before long, you'll be excited about how you feel, and inevitably the weight loss will follow.
Give us a call if you would like more information about our Pilates workouts. We are confident that we can put you on the path to achieving all that you desire, regardless of your current skill level and abilities.