Your Pilates instructor at our facility in Greensboro, NC will tailor your workout to your needs and goals.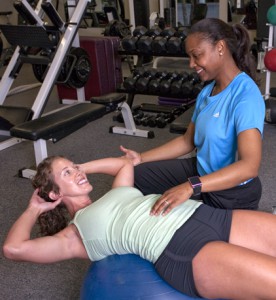 Just about everything you do in life begins first with learning how to do it correctly. Some things you can safely and effectively learn on your own, while with others, being self-taught is not recommended. You first learned to walk, to drive a car, and the tools of your trade through the instruction and assistance of others. The same should be true of setting up your fitness goals. For example, using a Pilates instructor rather than attempting it on your own will yield you better results. At Fitness By Design in Greensboro, NC, we have a staff of qualified instructors who will tailor your workouts for your unique health and fitness needs.
While Pilates is a gentle and safe method for improving your fitness level and the strength of your core, you will get much better results using a Pilates instructor.  You can work one-on-one with a Pilates instructor with our private Pilates sessions, or team up with one to three other people. We also offer package discounts.  The choice is yours. Your Pilates instructor will discuss with you the differences between mat Pilates and reformer Pilates in order to help you to ascertain if both or just one would be best for you. Your Pilates instructor will tailor your workout to your needs and goals, providing you with the individualized program you won't get at other facilities. We are confident this unique approach will give you amazing results! Give us a call today to learn more about working with a Pilates instructor here at Fitness By Design.
---