Each time you come into our Greensboro, NC fitness studio for your training session, you will experience the amazing benefits of personal training.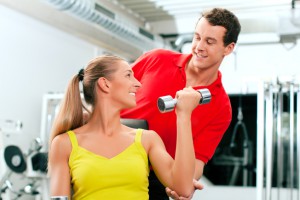 At Fitness By Design in Greensboro, NC, we offer the benefits of personal training to all of our customers. Whether you choose private or semi-private personal training, our experienced trainers give individualized attention and feedback to each person. Each time you come into our fitness studio for your training session, you will experience the amazing benefits of personal training.
Some benefits of personal training include:
Motivation: It helps when you are working out to have someone coaching you and pushing you, so you don't give up before you meet your goals.
Injury Prevention: Your fitness trainer will help you use equipment correctly and execute movements correctly to avoid injury. Your trainer will create an exercise program that is on your ability level and then work up gradually to harder workouts when you are ready.
Effectiveness: A trainer knows which exercises will burn the most calories or strengthen different muscle groups to help you meet your goals faster.
Professional Tips and Advice: An experienced trainer can give valuable advice on how to better take care of your body, including appropriate nutrition, rest, stretching, and other workout tips.
Confidence: Your trainer will be like a coach for you, cheering you on and encouraging you as you continue to get better.
Personalized Workouts: By choosing to work with a fitness trainer, you will have workouts that are tailored completely to you. Your goals, current ability, and health will be taken into consideration to create an exercise program completely unique to you.
Unbiased Feedback: You know that when your trainer gives you feedback, it is true. As a professional, unbiased third party, the feedback you receive from your trainer is invaluable. It can boost your confidence—or give you a good wake-up call—and help you reach your goals faster.
Life-Long Habits: The skills that you develop as you work with your fitness trainer can become habits that will last your lifetime. Continue applying what you have learned to keep your body healthy and happy.