We offer both mat and reformer pilates programs at our fitness center in Greensboro, NC.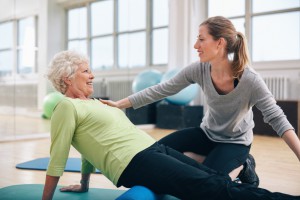 Pilates programs are perfect for rounding out your exercise routine.  Adding Pilates to your current workout program will help you lengthen your muscles, increase your core strength, and improve your spine alignment and posture. At Fitness By Design, we offer Pilates programs in Greensboro, NC.  Work privately or as a small group with our certified Pilates instructor, and begin seeing the benefits that Pilates can have on your body.
Mat Pilates- This is the traditional Pilates exercise most people think of. Using a mat and focusing on body weight exercises, Pilates movements bring attention to the core—the powerhouse of the body—and using breath to increase power in movement.  While still being an excellent workout, mat Pilates is gentle on the joints and is an extremely safe program.  In fact, mat Pilates is an approved exercise for those recovering from injury and even pregnant women.
Reformer Pilates- Reformer Pilates programs involve specific equipment to increase the level of resistance in each movement. A Pilates reformer is a bed-like piece of equipment with wheels and springs that provide the ability to change levels of resistance.  Using straps, bars, and pulleys, you can experience a variety of different exercises and challenge yourself further for a more intense Pilates workout.  Even though Reformer Pilates increases the intensity of your workout, it does not differ from Mat Pilates in its level of safety.  Even while using the equipment, you will be engaging in a low-impact (and very safe) exercise. Beginners are always welcome!  We will teach you how to use the reformer.