Choose from any of our exercise programs in Greensboro, NC and pick the program that is the right fit for you!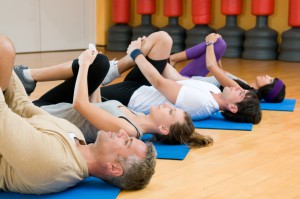 As the premier fitness studio in Greensboro, NC, we offer varying exercise programs to fit the needs of our clients.  At Fitness By Design, you will receive personalized attention and guidance to help you reach your fitness goals.  Choose from any of our exercise programs and pick the program that is the right fit for you.  Try something new and push yourself to a new level of fitness.
Some of our exercise programs include:
Pilates- Created by Joseph Pilates back in the mid-1950s, this exercise focuses on lengthening your muscles and strengthening your core, the powerhouse of your body.  Pilates helps with back strength and alignment, stronger abdominals, and injury prevention.  Pilates movements are low-impact and will help keep your joints safe.
Strength Training– Adding strength training to your exercise routine will bring you many health benefits and help you prevent disease and stress. It will also increase your muscle mass, making you stronger and increasing the amount of calories your body is burning each day.  Strength training also increases your metabolism and fixes posture problems.
Personal Training- We offer personal training to all our customers, so you can have an experienced trainer guide you with exercise and nutrition to help meet your goals faster.  We offer private personal training sessions, as well as small-group sessions, so you can choose what is comfortable for you.
Specialty Programs– Looking for something to help you in a specific sport? We also offer sport-specific training programs.  These specialty programs are tailored to the requirements of your athletic needs and goals.
---