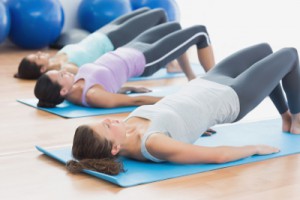 Is the monotony of the gym wearing on you? Are you bored with your regular workout routine? Do you dread going to the gym every day? If your answer was "yes" to any or all of these questions, group training might be the perfect solution for you!
Group training is a fun, energizing way to work out. Instructors are there to guide the class through a fitness routine and may give you some new exercises to implement into your existing routine. The monotony of the gym can wear on you, but doing group training is the perfect way to mix it up and get a new, unique workout each session. Variety in your workout will give you better results, regardless of what your fitness goals are, so don't be afraid to mix it up and incorporate new exercises into your routine.
Group training is also a great way to meet people with similar fitness goals. Accountability will keep you coming to the gym, so having a friend waiting for you is sure to boost your gym attendance. Not only will you have gym friends who want to help you achieve your fitness goals, but they may turn into friends outside the gym as well!
A little friendly competition goes a long way when it comes to fitness. If you work out with others in a group training setting, you're sure to push yourself just a little bit harder, get in one extra push up, and last a few seconds longer during those planks. If you want to see results, do group training to help you push yourself to the max!