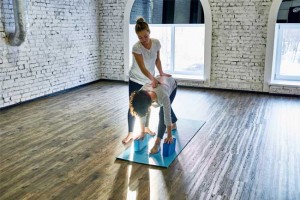 Pilates offers a full-body workout that will help tone your muscles, strengthen your core, and improve your balance. Since it's implementation, fitness experts have employed Pilates to help maintain general health and wellbeing of their clients.
One of the main benefits of Pilates is that it is a very flexible workout regime. It is easy to adapt Pilates movements to a variety of skill levels. This is one of the reasons we recommend a Pilates consultation. When you start a new workout regime, it is very important to proceed cautiously to avoid injury. A Pilates consultation with a trained expert can ensure that you will start at the right level of difficulty.
If you are new to Pilates, there are several options for classes. You can choose large or small group fitness sessions or even one-on-one training sessions. Joining a fitness instructor for a small group or one-on-one Pilates consultation means that you will receive Pilates instruction customized to your needs.
Each person comes to Pilates with different limitations and needs. One person may need to focus on increasing mobility through flexibility while another person may need to start by building up muscle strength. When you complete your consultation with a fitness trainer, you will be able to start your Pilates regime focusing on the right movements to safely improve your health.
Contact us to learn more about Pilates instruction at Fitness by Design, to see how we can design the perfect Pilates workout for you.