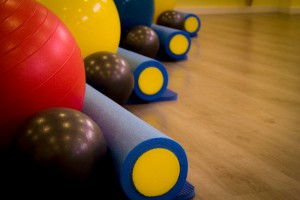 Much like a gym experience vs. working out at home, a Pilates studio offers many important benefits you may not be able to get if you choose to work out only at home. Here are just a few of the reasons people have widely chosen to join a Pilates studio. 
Guidance- Probably the most important aspect of a Pilates studio is the experienced staff members who will get you started down the right path of your Pilates journey. You will feel confident and ready-to-go as you are guided by an experienced and passionate Pilates instructor or personal trainer. We can give you the tools you need to be successful in achieving better health and wellness.
Equipment- Here at Fitness By Design, our studio is fully equipped with Balanced Body equipment. This means you receive a wider range of results with your workout. You also have access to all the mats, balls, bands, and other equipment that you may not want to have stored at your home. 
Support- When you join a studio, you are never alone. Along with hundreds of others working toward better overall health and wellness, you will be surrounded by a team of professionals who are experienced in helping people obtain their fitness goals. We are a support system. Once you join, you will quickly discover the strong bond of those dedicated to Pilates.
Focus- At home, you may find that you have many distractions. Whether it is children, the television, or your phone stopping you from feeling like you have the time, our quiet studio is dedicated to keeping you focused on your workout. You may even enjoy just having some time away from your usual routine.
At Fitness By Design, our Pilates studio offers all of these benefits and more. Let us evaluate your health and design a program just for you! Contact us today or come in and see us to schedule your first Pilates class.