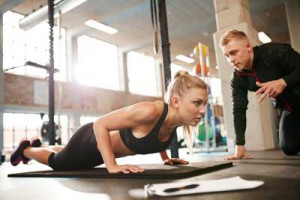 Working out is a very personal experience. It is often difficult to find anyone else who is on the exact same plane as you, in terms of fitness. While group classes can certainly be beneficial, the best approach to attaining health and fitness goals is to hire a personal trainer. Trainers are experts in their field. Once you've met with your trainer, they know where you want to get and how to get you there. There are so many benefits of personal training. Having a trainer design a workout program specifically for you will make a huge difference in achieving even lofty fitness goals.
Below is a list of the top 5 benefits of personal training.
Everyone is starting from a different level of fitness. You need something that will push you individually from Day 1.
A personal trainer can help you set goals and regularly measure your progress.
Individuals are more dedicated to their workout regimen when they are frequently held responsible for their progress. You are also able to push yourself harder during a workout when you have someone setting specific expectations for you.
It is so much easier to take a day off when no one else is involved. Having a personal trainer who is expecting you at a certain day and time helps you stick to your exercise plans.
A personal trainer knows the best ways to help you achieve your goals and can make a workout program specific to you.
Every workout program should be different dependent on each individual. You need a program that is tailored to your needs and your goals. Whether your focus is on muscle strengthening, weight loss, muscle tone, or general fitness, you can reap the benefits of personal training.