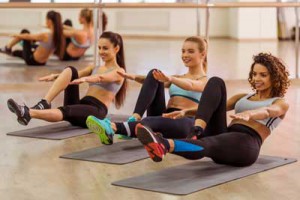 Many people enjoy yoga, but a chief complaint about it is not feeling like it works out your body as much as other options. While it is true that you can get a great workout from a yoga class, you will also spend some of the time doing breathing exercises and connecting spiritually. Those elements are not present in Pilates workouts, so you are able to spend more of the time specifically working out the muscles in your body. Yoga is a reflective and calming exercise that certainly has its place in challenging individuals physically. However, Pilates can be an excellent alternative that provides many of the same benefits as yoga, but with some added advantages.
Pilates workouts follow a more structured routine, so you will likely build on your muscle growth from one class to the next. The key focus of Pilates is on core strength. While you will certainly get aspects of that from a yoga class, it is does not give equal attention to that part of your body as Pilates does. These differences will be felt in your body as a result of which class you attend.
You may be like many others who say they do not get as much of a workout from yoga as they do when they participate in Pilates. Although they are very different types of workouts, you can gain a lot of the benefits from yoga in a Pilates class. You are able to focus on your body and feel at one with yourself. You're also able to relax and experience a calm as you exercise. In addition, Pilates workouts will provide you with greater muscle growth, since you are generally moving more and requiring more from your muscles.