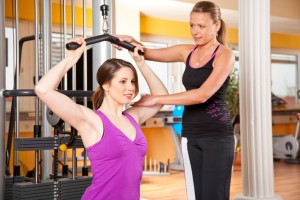 Perhaps you've had a goal to get into better physical shape.  If you are like most people, your intentions are good, but bringing them to fruition is more of a challenge.  You begin strong, with a consistent exercise program, and then over time, your enthusiasm wanes as it seems that your exercise program is taking too long to see results.  Before you give in to the temptation to give up on your physical fitness goals, try private personal training.
Private personal training has certain advantages over trying to implement your own training program at home.  Three of the top benefits are as follows:
Personalized: We offer private personal training that is just that—private and personal.  We will work with you to assess your fitness levels and choose a fitness program that will be most effective at helping you reach your fitness goals.
Mentored: When you hit the, "I want to quit" wall, our trainers will offer you the encouragement that will allow you to push through and meet your goals.  We will also coach you, so you can feel confident that you are performing your exercises correctly, which will allow you to see positive results.
Recorded Results: One of the best things about our private personal training program is that we will track your progress.  We offer fitness assessment testing that shows where you started and how far you have come.
When you are ready for private personal training that will help you along your path to greater physical fitness, contact us at Fitness By Design.  Let us help you create a fitness program that works for you!