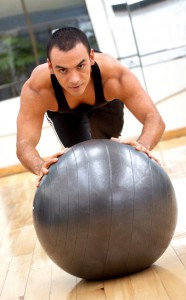 Many men are hesitant to begin Pilates programs. They often feel it is more of a "delicate" workout, that it is strictly meditative, or that it is mostly designed around the needs of the female body.  These are simply not true. There are many important benefits of Pilates programs that every man should want in his life. Are you missing out? 
Core- Pilates programs are very focused on centeredness and control. This makes it a very effective core workout. Almost every Pilates workout in some way affects your core. You might find getting that six pack is not so out of reach! 
Focus- Pilates uses a combined technique of exercise and meditation, allowing you to have better focus and control over your body. You will find this is very effective in relieving stress, improving concentration, and increasing fitness results. 
Flexibility- Much like yoga, Pilates is an effective program for increasing flexibility. Many athletes turn to Pilates to improve their athletic performance by increasing flexibility. This can also be important after an injury. 
Strength- While Pilates is more focused on developing lean muscle, it is also able to target the muscles that are often neglected in mass muscle workout programs.
Rehabilitation- After an injury, it is important that you slowly work your way back into a heavy workout routine. Pilates is a great start in building strength and increasing flexibility.
If you want to learn more about how a Pilates program may benefit you or if you are ready to get started on your own program today, give us a call at Fitness By Design. Let us design a fitness plan that is right for you.