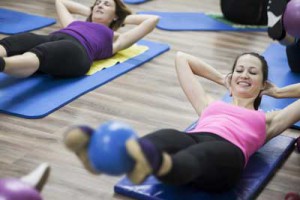 Pilates is an excellent way to strengthen muscles throughout your body. It is highly focused on core strength, but provides workouts that will tone almost all of your muscles. Pilates is also a great workout for improving flexibility and helping you to be in better tune with your body. If you're looking for something that will really push you and improve your overall muscle tone, Pilates is for you.
The two major muscle groups that do not really get worked in Pilates are calves and arms. We recommend completing several Pilates workouts a week, in addition to other types of workouts that may target those other parts of your body.
You will find great satisfaction in regularly participating in a Pilates class. You will feel challenged and strengthened following each one, and the benefits will continue long after class is over. Pilates will help your body feel more flexible, more toned, and more engaged, and it will also help you to have better posture. As you are consistent with this exercise routine, you will notice positive changes in your body.
If you are just getting back into exercising, Pilates is a great place to start. You are able to go at your own pace, doing low impact exercises that will boost your muscle growth. Pilates is also great if you're in excellent shape and looking to add something to your routine that will really improve your muscle tone. It is an amazing workout for a wide range of individuals and their personal fitness levels. If you are interested in Pilates, do not hesitate to make it a part of your workout routine. You won't regret it!