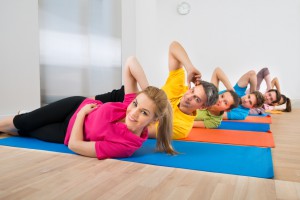 Are you excited about the benefits of exercising but worried about the amount of equipment that a good exercise program may require?  Do you want to develop long, lean, strong muscles, greater stability and good posture?  If you are interested in a workout that will provide you with all of these benefits, yet requires little equipment, you may want to consider mat Pilates.
Mat Pilates allows you to strengthen your muscles, improve your posture and flexibility, and improve your mood using exercises that are safe and gentle.  The best part is that you can achieve all of these benefits using only your mat and your body.  Of course, there are other pieces of equipment that you can use to assist you, such as an exercise ball, light hand weights or Pilates straps, but these things are all optional, not necessities.
The benefits of mat Pilates come through the application of certain principles such as concentration, control, centering, efficiency of movement, precision and breathing.  During each different exercise, you focus on using your core strength as you perform each movement.  This requires that you think about and focus on each exercise as it is performed.  The combination of brain power with muscle power is what makes mat Pilates such an appealing exercise routine.  Physical and mental health are interconnected—that's what makes Pilates an excellent workout choice that will improve your overall health.
If you are ready to lift your mood and strengthen your body through participating in mat Pilates, contact us at Fitness By Design.  Our class instructors and trainers are ready and willing to assist you in achieving your fitness goals.