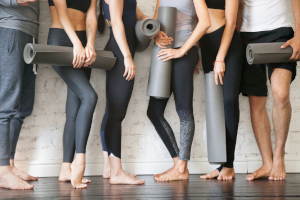 Pilates is more than just a trend when it comes to fitness. In fact, Pilates instructional classes seem to be one of the few workouts that are here to stay! At Fitness By Design, we love our Pilates instructors as well as our clients. Many of them find they have such a passion for Pilates that they actually want to learn how to become Pilates instructors themselves! If you have been wondering the same thing, here are a few things for you to consider.
Pilates instructors need to take some classes, gain hours and become certified like many other instructional experts. This helps to ensure that the instructors have a thorough background in the exercises as well as how to teach them to others. While it is an investment ($500-$3000 depending on the area and type of certifications), many people find the process to be worth the effort and cost.
In addition to classes, Pilates instructors also need to decide if they will be mat certified or teach other methods of Pilates. Because Pilates can be completed in different ways, you'll want to decide what type of Pilates instructor you will be as it will affect the type and number of certifications you'll need to get.
The last thing you'll need to do to become a Pilates instructor is to decide on a program that is right for you! One of the best things you can do to find a good program is to ask current Pilates instructors for their recommendations. They can steer you in the right direction for your local state certification requirements. For more information about Pilates methods and instructors we have here at Fitness By Design, please contact us today!