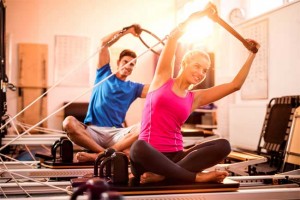 There are a variety of Pilates programs that you can take advantage of to improve your general health and wellbeing. At Fitness By Design, we offer many options for Pilates at beginner, intermediate, and advanced levels. Here is a look at some of the best Pilates programs we offer to help you take control of your health.
Most Pilates programs are divided into two types.
Mat Pilates: This program requires minimal equipment. You will use a mat, resistance rings, bands, and balls. The Pilates workout is designed to be a workout you can do daily to tone your muscles and strengthen your core. This is an ideal program for beginners.
Reformer Pilates: This Pilates program requires special equipment that enables you to increase the difficulty of your Pilates workout. You do not have to be an advanced Pilates student to enjoy reformer Pilates, but the equipment does allow for additional advancement for students who are looking for more of a challenge.
No matter what Pilates you choose to do, you will notice increased muscle strength, better balance, and greater flexibility. Whether you are a beginner or an old pro, there is a place for you in a Pilates class! You have the option to join group fitness training, or you can opt for one-on-one customized Pilates workouts.
There are many ways to do Pilates. It is a good idea to try both mat and reformer Pilates to see which method you prefer to keep your body healthy and active.
Contact us to learn more about Pilates classes we offer to our clients!