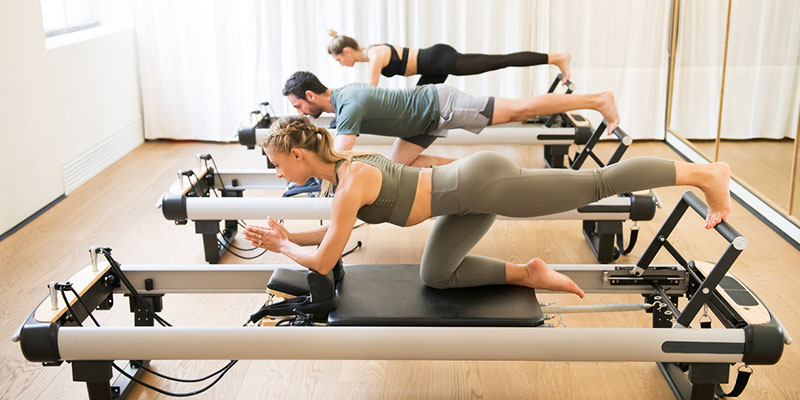 We feel that there is something for everyone in Pilates. Many don't realize that there are six different kinds of Pilates workouts. If you tried Pilates in the past and didn't fall in love with it, then we suggest giving one of the other Pilates workouts a try. From beginner to advanced athletes, we know that you will get a great workout from one or more of the six different Pilates workouts. Here are the six different Pilates workouts with a short description of each:
Mat Pilates – No need for machines or a lot of equipment. All you will need for Mat Pilates is a yoga mat and determination. The focus in Mat Pilates is the core.
Classical Pilates – This type of Pilates focuses on mat and apparatus work. Classical Pilates workouts focus on the tilt of the hips.
Contemporary Pilates – This type of Pilates is based off of classical Pilates but will vary depending on how and where the instructor was trained.
Reformers Pilates – Reformers focus on the core, much like Mat Pilates, but is much more difficult. You will do many of the same movements as Mat Pilates, but you will be on a machine called a reformer. You will be in constant movement while on the reformer as every movement has a transitional movement connecting all the movements into one workout. This aids in an optimal calorie burn.
Winsor Pilates – Winsor Pilates is a 20-minute workout that can be done from a video. If you enjoy working out from home this could be a good introduction to Pilates.
Stott Pilates – While maintaining the natural curve of the spine you will perform exercises using a BOSU, foam roller and stability ball.
There is definitely something for everyone in Pilates. Here at Fitness By Design, we strive to offer you a wide variety of Pilates workouts. Stop by our facility today to try one of our fun Pilates classes.