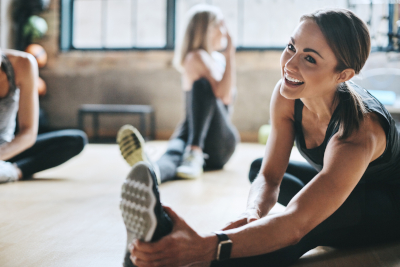 When it comes to exercise, most of us know that we need more than we are probably getting. Pilates is a great, low-impact form of exercise that delivers a full-body workout as well as other benefits. Here at Fitness By Design, we have been hard at work creating a regimen of Pilates that we use to benefit people at a variety of different fitness levels. Once you work start a regular routine of Pilates, you can expect to see some increases in your fitness, but there will be some other unexpected benefits of Pilates you might enjoy as well. Consider some of the following:
1.  Better eating habits. When you practice Pilates, you are also practicing a bit of meditation and mindfulness. Being more in tune with your body and what it needs can translate to better eating habits in many cases.
2.  Clearer, more vibrant skin. Exercising and sweating help to clean out your pores and also increase blood-flow to the skin. When combined with the better eating habits mentioned above, you can start to enjoy healthier skin.
3.  Better sleep. Quality sleep is something that many people struggle with. Pilates and many forms of exercise can be beneficial in giving you a good workout that will also help you sleep deeper at night.
4.  More regularity. More movement helps your body, and your digestive system, start moving! If you struggle with constipation, you might find Pilates helps to get things going, so to speak.
If you have questions about the benefits of Pilates that you can expect to see, we would love to talk more with you. Please give us a call today to find out more.