Regular exercise in Greensboro, NC can have a powerful effect on your overall wellbeing.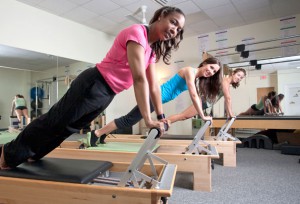 Most people know that exercise is something that they should do on a regular basis to lose weight and improve their physical health. However, what many people don't realize is the powerful effect exercise can have on their overall wellbeing.
While you might think you just don't have the energy to exercise, studies show that physical activity will actually boost your energy levels and make it easier for you to accomplish tasks throughout the course of your day. Plus, when your head hits the pillow in the evening, you may notice that you are able to fall asleep faster and stay sound asleep when you are exercising often. One thing to consider though: working out right before you go to bed can make it hard to fall asleep, so give yourself a couple of hours in between.
Finding the time to get exercise in can be tough, especially between errands, work, school, family, and other obligations. At Fitness By Design, we can help you schedule regular sessions that work with the demands of your daily life. Our studio is in Greensboro, North Carolina and is designed to get you excited about working out and improving your overall health.
What are you waiting for? If you're ready to make exercise a part of your daily life, come and train with us at Fitness By Design. Give us a call today for more information about our studio and what we can do for you.